PRESENTATION
Live Webinar
Presentation:
by Ken Seto
Pick Video Player Speed:
40 @ 1.25x, 33 @ 1.5x , 25 @ 2x
Why Web 3.0 & IPFS:
by Jake Jones
---
Why Filecoin & Filex:
by Kris Kay

PACKAGES
See this sheet for detailed information on the amount of USDT that each mining contract costs, as well as the amount of FILE coin that you must stake into the mining for the duration of the contract.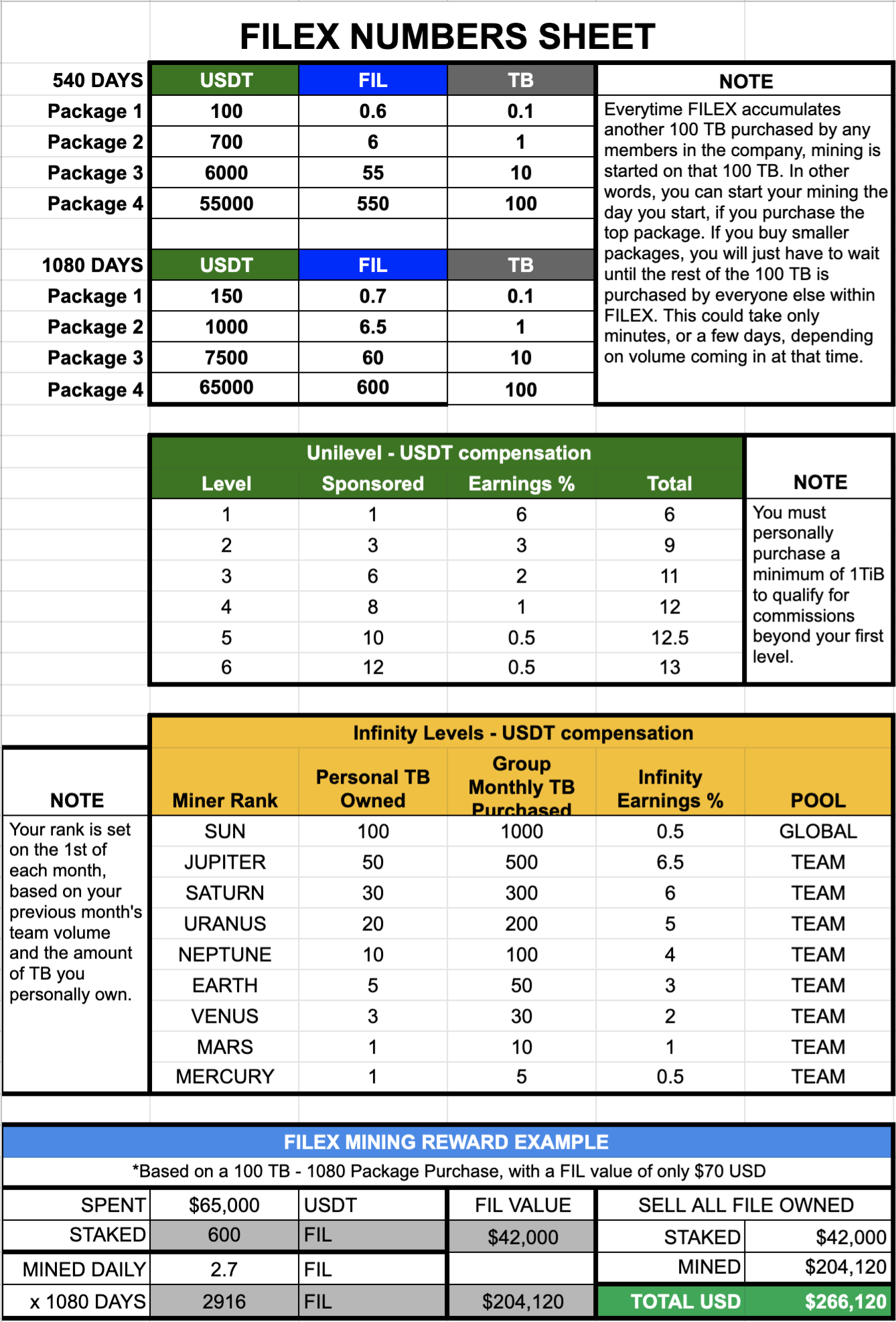 ---
See this tab on the same sheet, to see a projection of mining results, based on past performance.
REGISTER
★ FI

LEX S

ET-UP ★
Go to the "MY FILEX" section below, to get my FILEX referral link! Congratulations, and welcome to our team!
---
Enrollment Steps Simplified
1. Register for free on your sponsor's link, and make sure you click on the eyeball (see image below) to confirm you have entered both your PASSWORD and your TRANSACTION PASSWORD correctly!! You cannot change your transaction password without involving customer support. If you enter it wrong or forget it, your enrollment will be delayed while you start a support ticket to reset it. Also… make sure you see my FILEX REFERRAL CODE at the bottom. If you do not see it, then make sure to get it from the MY FILEX section below.
2. Log in to your FILEX dashboard on your computer (not on the app). Go to your PROFILE and turn on the 2FA security, by scanning the QR code with your Google Authenticator app. 2FA security is required on every purchase.
3. Go to SUBSCRIBE and choose a mining package. Make note of the amount of FIL & USDT (TRC20) that you need to deposit in order to pay for it. 
4. Use the wallet of your choice to purchase FIL and USDT (NOTE: FILECOIN can be purchased directly on FILEX).
5. Click on DEPOSIT inside your dashboard.
6. Deposit FIL from your external wallet, if you didn't already purchase it on FILEX.
7. Deposit USDT (TRC20) from your external wallet.
8. Go back to SUBSCRIBE and click on the package you are purchasing. (NOTE: We sell 8 different packages, and people can buy the same package multiple times. An example: John wants to buy .5 T, so John must buy the 0.1 T package 5 times)
9. Pay for the package with your deposited FIL & USDT. 
10. Welcome to FILECOIN Mining!!! Now go back to PROFILE and get your ID verification completed, so that you can make withdrawals from FILEX. NRIC stands for National ID card. In the USA, they accept images of the front and back of Driver's Licenses and State ID's.
Important Note: FILEX only accepts USDT (TRC20), from the TRON Network. If you make a mistake on the amount of FIL you deposit, and you need to add more FIL to your FILEX account, the minimum you can deposit is .18 FIL. The extra FIL you do not use will just remain in your FILEX wallet and you can withdraw it when you do your first withdrawal.
★ Internet

III

Set-Up

 ★
Go to InternetIII.com/Register-Now to sign up for your FILEX marketing site fast.
MY FILEX
★ MY

FILEX

★
Referral Link
CLICK HERE:
https://filex.plus/publicRegistration.php?qr=UMHRw0m9
Make sure you see my referral code on the registration page. If you do not see it, then please copy this code and paste it into the registration form:
UMHRw0m9
---
Jake W Jones
Call or Text Anytime, Day or Night!
+1-707-666-FLAT (3528)
EMAIL: Jake@AnnWyatt.com
Telegram: @JakeWJones
Team Telegram:
Whatsapp: +1-707-666-3528
LinkedIn:
Facebook:
https://www.facebook.com/thejakewjones
Instagram:
https://www.instagram.com/jakejonesdistiller/
Twitter:
https://twitter.com/jakewjones
YouTube:
https://www.youtube.com/jakewjones
★
Αδραξε τη μέρα
★